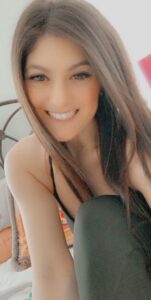 Hi, my name is Haley and I'm very excited to start my new job at Salon True. I've been in the industry for 7 years, starting my journey in Scranton, PA. I moved to Philly about 4 years ago and have since been focusing on my practice of French tapering, color, and blowouts. I'm looking forward to growing as a stylist at Salon True and I'm thrilled to be a part of the team! I can't wait to meet and get to know all the salon's wonderful clients.
A 2015 graduate of Empire Beauty School in Moosic, PA, Haley joined the team at Alexander's Salon and Spa in Scranton, PA. After several years, Haley decided to further her career in Philly and has been working in the city since October 2018. Haley's experience from previous roles and friendly persona meant she was simply a perfect fit and we couldn't be more pleased and proud to see her join the team! Although an industry veteran, Haley joins the Salon True team as a rising star, so take advantage of her reduced pricing now as it won't last long.
Please join us in welcoming Haley! You can book with Haley beginning on Thursday, 9/15.