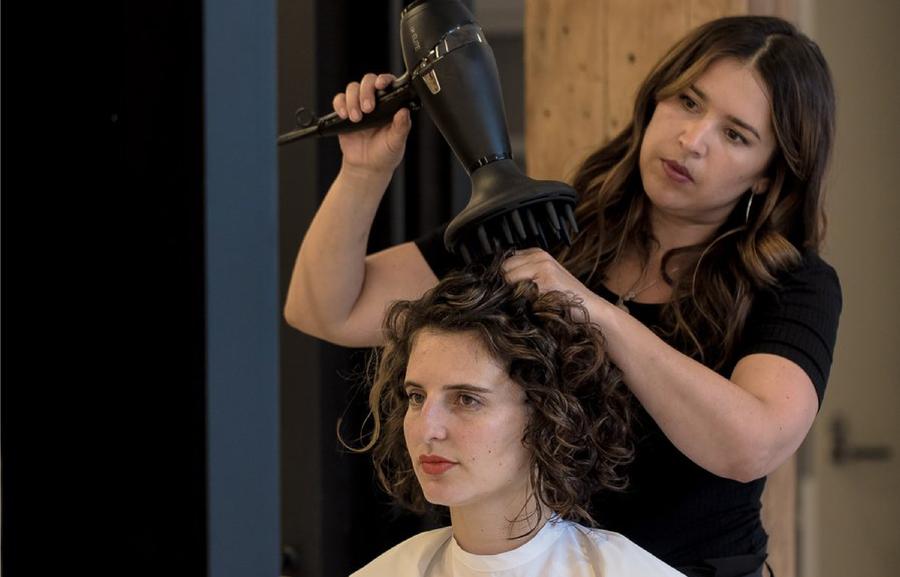 With spring finally in bloom in NYC, we felt it was the perfect time to sit down with three hairdressers at Rob Peetoom salon in Williamsburg to soak up some insider tips for achieving frizz-free, perfectly styled locks.

Let's be honest too, going from curly to straight, straight to curly, or anything in between isn't always easy, especially when you're battling unforgiving humidity (ahem, we're speaking from experience). Which products are right for me? How much do I use? Do I apply them on damp or dry hair? How to keep curly hair straight in humidity?
Photo by Cassell Ferrere
Enter Amy, Linda and Michael to help us make sense of it all. With well over three decades of hairdressing experience between them, these three are magicians behind the chair and experts in the world of Davines. Amy recommends LOVE/curl controllerfor adding amazing definition for wavy and curly-haired clients. "For bob length, short curly hair, use a nickel-size amount and go ahead and air dry the hair." She recommends putting a little bit on your hand, and working section by section, starting with the nape area, and twisting the hair to add effortless definition to those natural curls while they air dry. "This simple every day technique works great for fine or thick hair. What's great is you can also use LOVE/curl revitalizer for this method, especially if you are just getting out of bed and don't want to fully wash your hair."
Photo by Cassell Ferrere
"A lot of people I've found also don't want a feeling of a lot of product in their hair. So the LOVE/smoothing and LOVE/curl lines are great because these are all creams for the most part," adds Michael. "I also love LOVE/curl primer for spraying a light moisture onto the hair, and then using the This is an Oil non Oil to control it a bit more."
Linda's curly-haired clients are big fans of the entire LOVE/curl line; she says a huge draw is the range of products in the line which provide so many options. "I must say I love to cocktail OI products with LOVE/curl for my curly-hair clients." She also finds that for clients with curly, frizzy or coarse hair types, "mixing the LOVE/smoothing conditioner with the OI Conditioner is a great combination." Choosing a haircare line formulated specifically for curly and frizzy hair, is the best foundation for getting rid of unwanted frizz.
Photo by Cassell Ferrere
For those with waves and curls who would like to wear their hair straight, LOVE/hair smoother is a perfect anti-humidity savior. According to Amy, "a little goes a long way. I would use a dime-size amount for shoulder length hair, even a little less for finer hair, and go ahead and blow dry the hair almost all the way, then use a round brush to smooth it out." In fact regardless of your natural texture, Michael adds the LOVE/hair smoother is "great for all clients who want to have an extra polish on their hair, or if they're blow drying their hair straighter and looking for a smooth finish."

And if you have straight hair and you're dealing with unwanted frizz? Amy recommends a DIY regimen of using creams from both lines in sequence: "I like to use the LOVE/curl cream first, followed by a nickel-size amount of the LOVE/hair smoother."
Photo by Cassell Ferrere So there you have it. Bring it on, summertime humidity. We won't even know you've arrived.