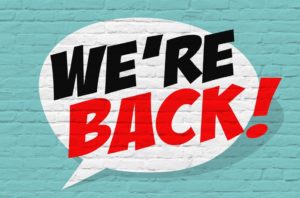 As many of you already know, Montgomery County enters the green phase of Pennsylvania's tiered reopening plan this Friday, 6/26. So, what exactly does that mean? Well, it means that we will open our door to guests once again this Friday.  To follow, we will explain rescheduling appointments, coming to your appointments, sanitation in the salon, and expectations from you.
Rescheduling Appointments
Many of you have appointments on the books already.  Appointments were rescheduled based on your regularly scheduled intervals. This may work for some and not for others depending on where our reopening date falls in correlation to your appointment date. If you'd like to check on the status of your appointments or to check or change an appointment, we ask that you contact us via email or through our social media (Instagram or Facebook). Phones will not be answered until Tuesday, 6/30, as we accustom ourselves to the new normal.
For anyone that had an appointment between March 17th- present, Tamera, Brian, or your stylist will be reaching out to you to get you rescheduled or inform you of your reschedule date. Please be patient. We've been closed for 14+ weeks. We have lots of people to contact.
Feel free to email us at livelovebe@salontrue.net. You can also send us a message on Instagram or Facebook. We will do our very best to respond to all emails within one business day.
For those clients who are high risk and do not feel safe coming to the salon, please inquire about a concierge appointment at your home. We will do our best to accommodate your request.
If your regular stylist is booked upon reopening and you're looking to get in sooner rather than later, please consider seeing another stylist who may have availability sooner.
For single process color clients, if you cannot get an appointment right away, inquire about a complimentary DIY root touch-up kit ($55 value) to get you through to your appointment.
Upon consultation with your stylist, keep in mind that additional charges for extra color and/or time may apply. (example: If you are typically a 4 week color appointment and you haven't colored your hair in 16 weeks, we will obviously need to use much more product than usual. We will need to charge for this extra color to cover costs.)
Coming to your appointments
In conjunction with the PA Department of Health, the PA State Board of Cosmetology, and CDC guidelines, there will be certain protocols and policies put into place to assure your safety and the safety of the Salon True team. Please see below to know what to expect upon your next appointment:
The morning of your appointment, you will receive a COVID-19 screening sent to you via text message.  Please fill it out and submit it to avoid unnecessary delays.
15 minutes prior to your appointment time, you will receive a check-in text. Please check in via text once you arrive. We will be alerted once you do this. Please remain in your car or outside. You will receive another text once your stylist is ready.
Please note: You will be required to wear a mask to enter the salon. If you do not have a mask, one will be provided to you for a $1 charge. (You may want to have an extra mask just for hair appointment.) Your mask must stay on for the duration of your appointment.
Upon arrival, we will take your temperature and have you sanitize your hands. Anyone with a temperature over 100 will be asked to reschedule their appointment.
If you are late to your appointment, you will be asked to reschedule. There will be a 20% service fee applied to your following service. We ask for your understanding as we need to be very regimented during this time.
Come alone to your appointments. We are under limitations as to how many people we can have in the salon at one time.
To limit your time in the salon, feel free to come to your appointment with clean, washed hair.
To avoid unnecessary air movement, we will not be offering blow-drying at this time.
Our waiting areas will be closed. There will be no reading materials or magazines. While your color is processing, if necessary to move your seat, please sit in the designated area (marked with floor stickers) to assure compliance with social distancing.
There will be no beverages or snacks allowed at this time.  Again, your mask must remain on for the duration of your appointment.
We ask that you only touch retail products that you intend to take home with you. Alternatively, please let our staff know the products you'd like, and we'll be happy to prepare your order.
Please let a staff member know should you need the restroom, so we can sanitize after each use.
For your convenience, we have opened up the schedule for the remainder of the year.
What To Expect From Us
Before each shift, each member of the Salon True team will have their temperature taken. Any team member with a temperature over 100 will be advised to seek treatment and will be sent home.
The Salon True team will be wearing customized scrubs washed after every shift. Shoes worn during the shift will remain at the salon.
All team members will be wearing masks throughout their entire shift. Please keep this in mind and keep conversations minimal. In addition, goggles, glasses, or face shields will be worn during each shampoo service.
All the members of our team have received training and understand proper sanitation and disinfection procedures that meet the highest standards in the industry. Each station, as well as tools, will be cleaned and sanitized throughout the day.
There will be acrylic dividers between each station, between each sink, and at the front desk.
There will be hand sanitizer upon entry and located at each station as well as the front desk.
A heartfelt thank you goes all to all of our wonderful clients and friends that have supported us over the last several months. Words cannot express the gratitude we feel. We understand this process has has been difficult and we appreciate everyone's understanding and patience. We are doing our best to navigate this tough situation. Take solace in knowing that during this time of crisis, your safety and that of our team is our first priority with your hair a close second! We look forward to seeing everyone soon!